Whenever we sign our kids up for activities, we ultimately wants a kid's program with lifelong benefits. A program that teaches our kids perseverance, patience, team work, goal setting. I could go on and one.
Most parents think of sports or scouts. What about kid's yoga?
Sounds great, doesn't it? Yet, I can feel your hesitancy. Another thing to do, another place to go, another activity. Why choose this path for your children? Don't we have enough going on?
Right there. That's the thing. We have so much going on. Children weren't born knowing how to navigate the hectic lifestyles we cultivate around them. That isn't instinctual. And let's be honest, adults don't know how to navigate the craziness either. At least not usually in healthy ways.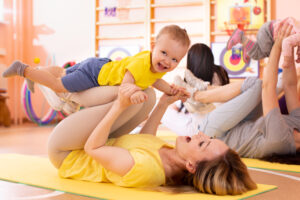 Mini Me Yoga: More than yoga.
Not only do we teach children yoga, our classes are comprised of many components that provide children with tools (no equipment needed) that they can use anywhere, any time to handle stress and navigate life events. Yoga, meditation, and mindfulness have many physical and emotional health benefits for adults, but these holistic practices offer even greater opportunities for development in children. Not only can children benefit from the physical and mental health benefits of these activities, but they can also gain greater self-awareness, focus, and resilience in the face of challenges. 
Lifelong Benefits of Yoga
Yoga helps children gain strength and flexibility while teaching them to stay present and minimize distractions. Through this practice, children can develop their focus and discipline and can explore how their body moves. Practicing yoga with children (yes, I'm talking about those adult/toddler classes) can create a strong bond between the family, allowing everyone to find a sense of shared purpose, connection, and acceptance. 
Lifelong Benefits of Meditation
Meditation allows children to practice calming and focusing of the mind, which can lead to improved concentration and better sleep. Through meditation, children can explore their inner world and learn to create a sense of comfort and peace by connecting with their feelings and thoughts. 
Lifelong Benefits of Mindfulness Techniques
Mindfulness helps children cultivate intentional living. This practice teaches children to remain present in the moment and to observe their feelings from an observer's perspective. Through mindfulness, children can learn to become aware of the environment around them and understand their impact on the world. 
Something for every child.
This isn't just another activity. Mini Me Yoga will equip your child with strategies that can be utilized on their own, long after they leave The Center at Keystone. With regular practice, children can gain many skills beyond the physical strength, flexibility, and balance. Self-regulation skills such as self-control, and  understanding and strengthening their relationships with themselves and their loved ones are vital to leading mentally healthy lifestyles. Even better yet, they will have FUN while doing so. It doesn't get any better than that.